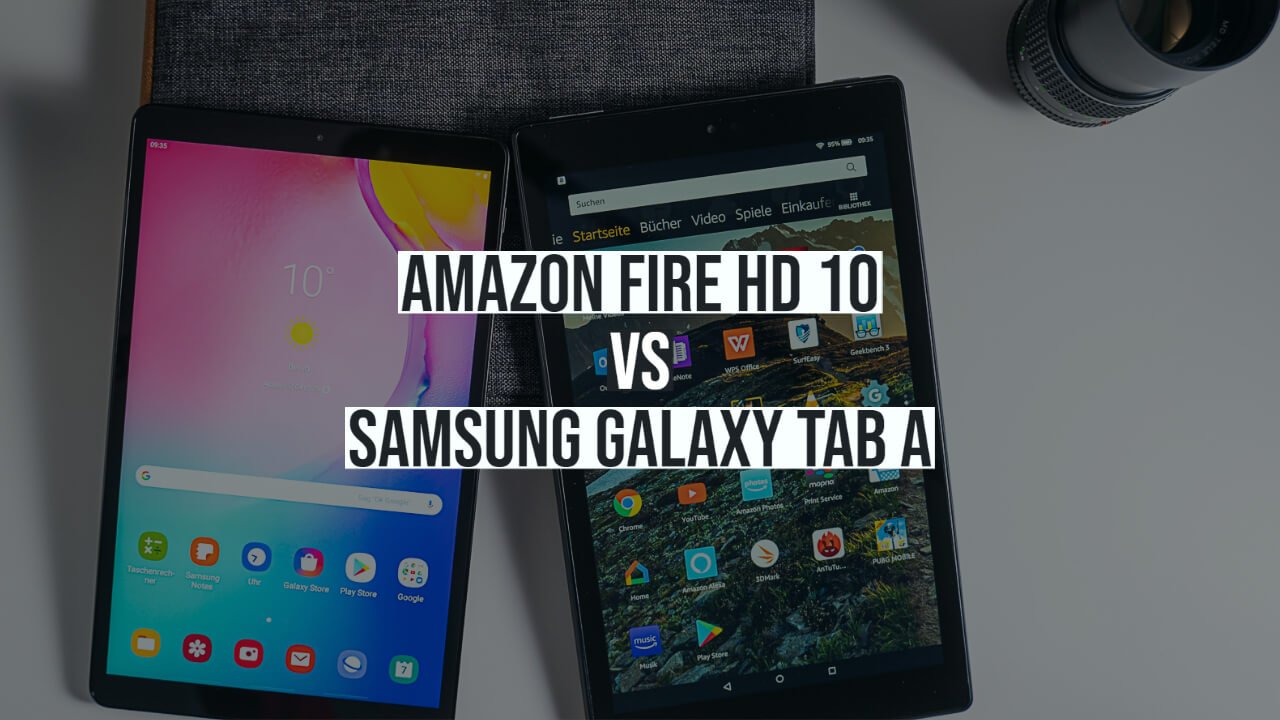 In this article, I am comparing Amazon Fire HD 10 with Samsung Tab A 10.1. And this article will help you that which tablet is perfect for you.
| | |
| --- | --- |
| Fire HD 10 | Samsung Tab A |
| BUY NOW | BUY NOW |
| PROS | PROS |
| Large, clear screen. Dependable battery life. Practical design. | Solid metal body. Pretty screen. Powerful processor. Android 9.0 Pie. Good cameras. Decent speakers. |
| CONS | CONS |
| Divisive software. Only okay speakers. Best for Amazon customers. | Base model with 2GB RAM. Speakers on just one side. No fingerprint scanner. |
DESIGN
| | | |
| --- | --- | --- |
| | Fire HD 10 | Samsung Tab A |
| Dimensions | 10.31 x 6.26 x 0.30 inches (262 x 159 x 7.7 mm) | 9.65 x 5.88 x 0.3 inches (245.1 x 149.4 x 7.6 mm) |
| Weight | 17.8 oz (504 g) | 16.54 oz (469 g) |
| Materials | | Back: Aluminum |
| Colors | Black, White | Black, Gold, Gray |
Fire HD 10:
On the very top, we have our power button, USB type-c for charging in sync, a pinhole microphone, headphone jack, and volume rocker.
Over on the right side, we do have an SD card slot and this is good up to a 512 gigabyte card.
This tablet also contains dual stereo speakers and it also does Dolby Atmos and it sounds really good.
When comparing this to the 2017 version of the HD fire 10, it's the exact same size, it's the exact same thickness, we just have more powerful internals.
Samsung Tab A:
It is a pretty decent product, it is comes in three separate colors (Black,Gold,silver). On the back, you get the Samsung logo a little two-tone on your camera. On bottom you got USB type-c port for charging, you got speakers on both sides, and you actually have the 3.5 millimeter headphone jack on top. Power button, volume buttons, and SD card slot on the right-side. It has two models, which is 32 GB and 128 GB.
Camera setups you got a 5 megapixel camera on front, and 8 megapixel camera on back .
This tablet don't get any physical buttons on the front from Samsung. Samsung is 7.5 millimeters thin, and it's weight is 469 grams.
DISPLAY
| | | |
| --- | --- | --- |
| | Fire HD 10 | Samsung Tab A |
| Size | 10.1 inches | 10.1 inches |
| Resolution | 1920 x 1200 pixels, 224 PPI | 1920 x 1200 pixels, 16:10 ratio, 224 PPI |
| Technology | IPS LCD | IPS LCD |
| Screen-to-body | 71.04% | 80.80 % |
| Features | | Ambient light sensor |
Fire HD 10:
The display is 10.1 inch display 1920 resolution by 1200 pixels. It has an IPS panel with wide viewing angles. And it has fully laminated screen.
The screen is large and it has good color. I wouldn't say it's quite as good as an iPad screen but it's plenty good. This is my favorite feature because typically when you buy a tablet in this price range, the screen is a corner that the manufacturers are going to cut.
It has a VGA front-facing camera, and a 2 megapixel rear camera along with 720p HD video recording. The video quality here is also pretty good, and definitely improved from the fire eight.
Samsung Tab A:
This is an LCD screen. The display is 10.1 inch with an aspect ratio of 16 by 10, with 1920 by 1200 resolution which is gonna be a very good. It is not a 4k screen but still it's gonna be good. Screen looks really good and clear. There is no fingerprint sensor and no face recognition either.
This is an IPS LCD display with a Full HD resolution which makes the content look pretty nice and easy on your eyes.
SOFTWARE AND PERFORMANCE
| | | |
| --- | --- | --- |
| | Fire HD 10 | Samsung Tab A |
| System chip | MediaTek | Samsung Exynos 7 7904 |
| Processor | Quad-core, 1500 MHz | Octa-core, 1800 MHz, ARM Cortex-A73 and ARM Cortex-A53, 64-bit, 14 nm |
| GPU | Yes | Mali-G71 MP2 |
| RAM | 2GB | 3GB |
| Internal storage | 64GB | 128GB |
| Storage expansion | microSDXC up to 512 GB | microSDXC up to 512 GB |
| OS | Customized Android, Fire OS | Samsung OneUI |
Fire HD 10:
We still get 2 GB of RAM, when compared to 2017 model.There are two storage variants of -32GB and 64GB.This have a micro SD card slot which can support up to 512 GB, 802 11 dual band AC Wi-Fi, and bluetooth 4.2.
What about gaming, so there will be issues with a few higher end games. On the lowest graphic setting with call of duty mobile and the highest framerate, it actually runs quite well.
For dreamcast, we're using the redream emulator, IM upscale to 1280 by 960. Unfortunately this GPU does not support OpenGL ES 3.0.
Here we're getting full speed emulation with up skills, which is pretty awesome. This is the original Soul Calibur and happens to be the best version for Dreamcast.
PSP also works great with a lot of different games on that 2x resolution.
Unfortunately, higher end games won't run well on this. So there's lots of retro games that are gonna be playable, but just don't expect to run the dolphin emulator.
But in the end, it's a welcome upgrade from the 2017 version, I really wish they would have added an extra 1 GB RAM to it but unfortunately they left it at 2 GB. And even if you purchase the more expensive 64 GB model, you're only gonna get 2 GB of RAM, and they do also come in different color variants.
It's running fire OS 7.3 and this is based on Android 9.0. If you happen to go with the cheapest option and get the $150 version, you'll notice ads from Amazon on your lockscreen. The ads aren't super-intrusive but if you don't like ads which you know who does, you can pay an extra 15 bucks and get an ad-free version.
The fire OS experience is fine, I do prefer regular Android but you know it gets the job done. If you're not familiar with it, it sort of groups everything into tabs of content like games, books, etc. Overall, the interface is very simple and easy to use.
Samsung Tab A:
You get a 2 GB of RAM. While playing games it's not lagging,and gameplay looks really good, there are no issues everything is moving smoothly.It's fast, and, really easy to navigate the screen controls work really smoothly.
There is not Snapdragon, it is a Exynos 7904 a processor in here, which is made by Samsung and it comes pre-loaded with Android 9.0 and it has Samsung OneUI in it. The loading times on the Samsung are noticeably longer, the graphics usually look much better on the epic tablet.
This tablet does support the Samsung OneUI, so you can use night mode and the navigation bar. You can also change the navigation bar to swipe up.
When you turn on the dark mode or the night mode which is tries to save you some battery, but also it is easier on your eyes in the evenings.
BATTERY
| | | |
| --- | --- | --- |
| | Fire HD 10 | Samsung Tab A |
| Capacity | 4300 mAh | 6150 mAh |
| Type | Li – Ion, Not user replaceable | Li – Ion, Not user replaceable |
Fire HD 10:
This device is equiped with 4,700 mAh battery. And Amazon claims they improved the battery life to 12 hours of screen on time. To test this, I watch YouTube and I played some games and I used about 5% of the battery in 30 minutes, so at that pace, I'm looking at about 10 hours of use.
Samsung Tab A:
The battery life of this tablets is pretty good. This device is equiped with 6000 mAh battery with 11.5 hours battery life at medium brightness. You probably get about 6 or 7 hours of screen time, generally It lasts most of the day. It has use USB C type of charging.
WHICH ONE IS BEST FOR YOU?
Regarding some aspects, they are quite similar but overall, I think the Galaxy tab a 10.1 2019 version is a much better tab. It has more powerful hardware, a metal body, a better camera, and a speaker. And it's running on google's android. So, in my opinion, you can spend money on Galaxy Tab A.